Property Cleanout in Jackson Township, New Jersey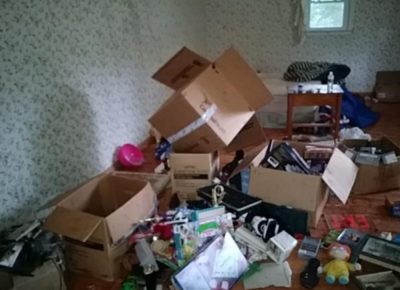 Symth recently completed a property cleanout in Jackson Township New Jersey. Smyth Property Management is capable of providing cleanouts for our clients. When we are performing property cleanouts, we recycle everything we can. Good furniture and housewares are set aside and donated to the needy, all hazardous waste (paints, solvents, oils, etc.) are taken to the appropriate county recycling center. Metals are separate out, tires, and anything else that can be recycled.
Having done these for over 20 years we have established good relationships with non profits where we can donate clothing housewares, and good furniture to help others.
Not only to we provide the property cleanout, we do a complete sales clean, which includes appliances, cabinets, window sills, windows, floors, bathrooms, kitchens, all horizontal surfaces, and removal of all cob webs. Presently we disinfect all doorknobs, light switches, counter tops, bathrooms. All light bulbs are checked and replaced if needed.
Before Property Cleanout in Jackson Township
After Property Cleanout in Jackson Township
Do you need property cleanout services for a rental or resale?
Contact
us today by phone
(856) 829-5877
or email