Smyth Repairs Oxford Village Condominums in Egg Harbor Township
Smyth recently completed repairs at Oxford Village Condominums in Egg Harbor Township, New Jersey after a vehicle collided with one of the units there. We were called to this unit over the weekend after a car had jumped the curb and ran through the front wall. As you can see there has been extensive damage to wall affecting the structurally stability of the unit above. Luckily, no one was in the room at the time of the accident or things could have been much worse.
The first order of business at Oxford Village Condominums was to shore up the 2nd floor unit and have it inspected by the construction official. This was completed and inspected immediately allowing the 2nd floor tenant to move back in the next day.
After this was competed we made a full evaluation of repairs needed and worked with our architect in preparing a set of construction documents to be submitted for permits. It was determined that the front brick façade would need to be removed all the way over to the doorway, 75% of the exterior wall framing would need to be replaced. The 2nd floor was jacked up approximately 2 inches. New drywall, insulation, trim and flooring was installed. Both front rooms were painted and we also repainted at our expense the entire hallway for the tenant.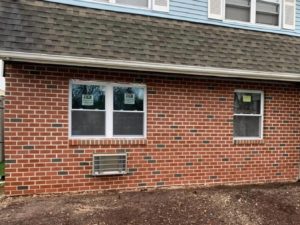 Dust protection in the unit was very important as the tenant moved their belonging into the living and dining room areas. We erected temporary dust protect to keep all the belonging and the other rooms free of construction dust.
Smyth Property Management worked closely with the tenants of Oxford Village Condominums in choosing flooring options and paint colors. We also worked with the condo association in matching the brick veneer.
Once the insurance settlement was agreed to the work was completed in 3 weeks and tenant were back in there unit.